Get affordable Legal Advice on the phone from User-Friendly Lawyer Melanie Coxon. Call 021 911133.
Need Help with a Traffic, Drink-Drive, Criminal matter or a Work Licence, S94 Community Work Application in lieu of further disqualification, or a s106 Discharge Without Conviction or NZTA P Endorsement Fit & Proper person issue?
Then relax and call Melanie Coxon, the lady lawyer, who really knows her stuff!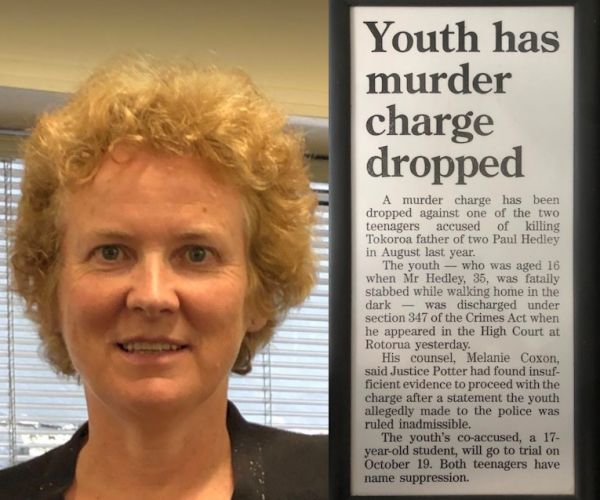 Call Melanie Coxon at LawyerHelp now on 021-911-133
Why you should use Melanie Coxon
Melanie's guarantee! She promises by the end of your $230 phone interview (for however long it takes) you will feel better because you now have some direction and peace of mind.
Affordable fees. $230 phone interview, $230 one off admin fee to cover paperwork phone calls and talking to the police, $230 / $287 for each court appearance depending on Auckland District Court or other courts in greater Auckland. 
Easy pay as you go. Debit card, credit card, online transfer, or if you've got a sense of humour pay with a gold nugget.
Melanie Coxon has 25 years' experience in traffic and criminal law.
She is recognised as one of the most knowledgeable drink-drive traffic lawyers in Auckland.
Melanie gives solid legal advice nationwide for traffic, drink-drive, s94, work licence, or any other criminal matter you need help with today? She services Invercargill, Christchurch, Wellington, Rotorua, Taupo, Hamilton to Cape Reinga and anywhere in between.
Click On The Applicable Button You Need Legal Help With Below
Use the buttons below to go straight to the relevant 'preparation for appointment' application form for the legal service you require help with. This will save both time and money:
Have Questions?
Call: 021-9-111-33 / 0800-OK2DRIVE
Email: melanie@lawyerhelp.co.nz
How Does It Work?
At LawyerHelp we are available between 9 am to 7 pm Monday – Friday plus Saturday afternoon.   All other times are by special arrangement only.
Online Appointments – Available via phone or Zoom. 
Office or Phone  Appointments - Monday - Friday 10 am to 8 pm plus Saturday afternoon between 1 pm and 4 pm, Why not save a day's pay! 
Free Parking - Call 5 minutes before you arrive at 87-89 Albert street 1/2 block up from the Auckland District Court and we will open the parking gate for the underground parking. 
Support Persons - Support persons welcome! Bring your mum, your dad, your partner, or friend.  
Payments - Easy Pay as you go by debit/credit card, bank transfer, or if you still have a sense of humor - with a gold nugget!
Remember - Don't sweat the small stuff! Be Kind, laugh, remember that yesterday is gone, and Melanie will help you get through today, tomorrow will look after itself. 
Most Affordable Fees
Each office or phone appt costs $230 incl GST.   
Each Court appearance at the Auckland District Court costs $230. All other Courts in Greater Auckland cost $287. 
A work Licence costs from $920 (incl GST) depending on which Court you are appearing & your traffic history. The fee includes a lawyer appearing in Court with you.
The fees for a s94 community work in lieu of further disqualification or sentencing submissions for 3rd + drink-drive costs $1,725. A discharge without conviction application fee is $1725 incl GST plus $230 per court appearance. 
The cost of a s106 Discharge application is $1725 (incl GST) plus $575 success fee if granted
Payment Plans - Bigger fees can be paid off in affordable agreed sums to suit your pocketbook over 4 weeks if necessary but must be paid in full 48 hours before your final court date.
As you can see Melanie Coxon is the most affordable. When you leave her office, you will still have both your arms and legs!
English, Hindi & Mandarin Speaking Lawyers
Melanie is noticeably very user-friendly. Just ask around. Her staff employed barrister Sharnita Pratap speaks both English & Hindi.
We also have access to a European Mandarin-speaking lawyer if you wish.   
Available to appear for you at Auckland, North Shore, Waitakere, Manukau, Papakura and Pukekohe District Courts.
Have Reliable Out of Town Agents
LawyerHelp also has reliable Agents who can appear at Hamilton, Tauranga, Wellington. If you want Melanie then her airfare, travel time and court appearance costs are extra.
Remember when they say it is impossible that means there are 1000 solutions! 
Click On The Applicable Button You Need Legal Help With Below
Use the buttons below to go straight to the relevant 'preparation for appointment' application form for the legal service you require help with. This will save both time and money:
Have Questions?
Call: 021-9-111-33 / 0800-OK2DRIVE
Email: melanie@lawyerhelp.co.nz
Recent Feedback
Thank you Melanie. Your expertise and guidance through the entire court process was invaluable. I have no doubt that without your services, I would have been looking at a conviction rather than diversion. Myself and partner cannot thank you enough.
Hi Melanie I just want to say another BIG Thank You for all your help and assistance regarding my case, and also on a fantastic job you have done with regards to the presentation of my case to the court and judge. My family and I are very grateful for all your efforts and kind words as well as your motivation for getting me the assistance I needed to have achieved the end result we were hoping and working towards, and that was a discharge without a conviction. Thank You very much. Please convey our thanks to your team as well for all their support and hard work.
Best regards C
Dear Miss Coxon, Just a short note to tell you how much my son and I appreciate what you did for us. Without your help and your reasonable fee I don't know what we would have done. Many Thanks.
Melanie. Now that I have my discharge, thanks to you, I can live my dream and travel overseas. God bless you.
Dear Ms Coxon My son and my family want to say a big thank you to you for all your help. I appreciate the effort and skill you put into getting the s.106 discharge that you did. I must also say your charges were very moderate indeed.
Thank you for all your help. I know that if you had not done the written submissions that you did my son would not have gotten the great result that you did. Thank you from the bottom of my heart.
Wow, what great news!!! Thanks for all your efforts. Do you send us a paper or reference number so that we can go to the embassy here? Best Regards J
Terms and Conditions of engagement are:
Melanie Coxon holds no indemnity insurance.
Melanie Coxon has had no Law Society complaints in her practising career.
Melanie Coxon has her own complaints procedure available in accordance with the Client Care Rules 2008 of the Lawyers and Conveyancers Act 2006. Details supplied upon engagement, at request, or online here.